11 December 2020 -
The Global Fortification Data Exchange (GFDx) is a "one-stop-shop" for large scale food fortification data. The platform provides access to critical indicators at the national level on large scale food fortification, as well as tools to aid in visualization of this data. 
Built in partnership by GAIN, IGN, and FFI, the GFDx aggregates and visualizes data on five commonly fortified foods: maize flour, oil, rice, salt, and wheat flour. The GFDx includes indicators on food fortification legislation from 1940 to present, fortification standards, food availability and intake, legislation scope, proportion of foods industrially processed, availability of regulatory monitoring protocols, fortification quality, and population coverage, among others. Within the GFDx site, users can generate custom maps, charts, tables, and plots or download data for offline analysis.
The GFDx is continuously updated as new data and information become available.
The GFDx was designed to empower governments, donors, implementing agencies, and other members of the global health and development community to reach populations affected by vitamin and mineral deficiencies with data-driven policy and programs. The GFDx aggregates and visualizes data from 196 countries on fortification to inform the planning, resourcing, implementation, and evaluation of food fortification programmes.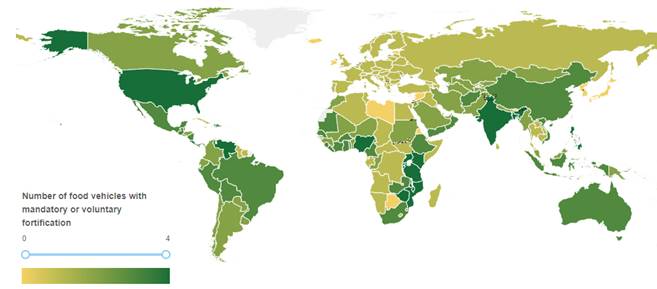 This tool was designed to make existing global datasets open, discoverable and understandable and to enable decision makers to answer critical questions like:
How many and which countries require the mandatory fortification of maize flour, oil, rice, salt, or wheat flour?
In countries with legislation standards, what nutrients are required to be included in fortified foods?
How much maize flour, oil, rice, salt, or wheat flour is available or consumed in a given country?
What proportion of maize flour, oil, rice, salt, or wheat flour is industrially processed and hence able to be fortified?
How much of the food consumed in a given country is fortified at levels that meet the country's standards?
What proportion of a country's population is consuming fortified maize flour, oil, rice, salt, or wheat flour?
Importantly, compiling national and global data and consolidating data sets across standardized indicators enables collaborative and crosscutting partnerships in fortification in order to improve diets globally.